Immersive Experience Design / Marketing / Fundraising
The success of your project depends on effective communication. We must fully recognize what you feel brings value to your project, and we must deliver using tools that allow you to understand, visualize and participate in its design. In addition, many non-profit organizations need to communicate the project vision to the facility users and those participating in funding. Our real-time, virtual reality design methods involve clients from the initial steps in schematic planning to the details of final design, allowing you to participate in the process and understand the results of the decisions made along the way. It also allows you to communicate the vision you have to the users of your facilities so they can connect more deeply to the vision and purpose of the project.
Still Images
Walk Through Animations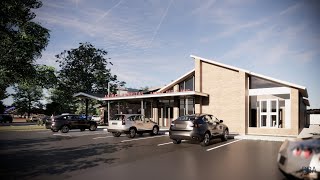 Friendswood Vet Clinic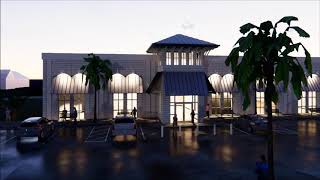 Church Unlimited, Rockport
EMS Facility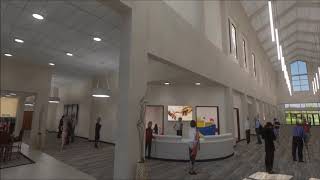 Waxahachie Church
Central Texas Retreat
Texas Offices
Church Unlimited, Rockport

Church Unlimited is based out of Corpus Christi, but had a campus that ministered in the community of Rockport, one of the hardest hit by Hurricane Harvey in 2017. The existing facility was wiped out by the hurricane, and as a past client of ours, Church Unlimited asked for our help to rebuild. BBA responded with gratuitous design services. The original plan was to move ahead with a simple, pre-engineered building that would be used as a local congregation church, but would also serve as a wedding chapel. Over time, the program was re-visited to grow into something the community would be proud of and welcome in their downtown area

Waxahachie Church

According to a state historical marker, twelve citizens meeting in the Methodist Church organized the First Baptist Church of Waxahachie in 1861. Its first church building was completed in 1882, with several successive structures built over the years. The former downtown sanctuary was dedicated in 1959 and served as its home until increased membership and growing ministry nees prompted discussions of new facilities. A long-range planning committee was formed in 2012 to explore ways for this multi-generational church to meet its expanding mission of service to the community.

Central Texas Retreat

Nestled among hundred-year-old live oaks on scenic, hilltop acreage is Lutherhill Camp & Retreat, near the town of LaGrange in the heart of Fayette County. Since 1954, Lutherhill has served as a place for individuals and families to engage with God's creation, each other, and their faith among the beautiful amenities the camp and retreat offer. Lutherhill engaged our services to provide preliminary design for a new Dining Hall addition and a phased addition of a Retreat Center for small-group overnight and meeting facilities. Architectural animations and 3D visualizations were created to assist in its fundraising campaign. After successfully gathering funding commitments, Lutherhill Ministries Board commissioned us to proceed with the design of the new Dining Hall. It will facilitate seating for approximately 325 people, a full-service kitchen, camp store, and expansive decks to facilitate plenty of outdoor social engagement.